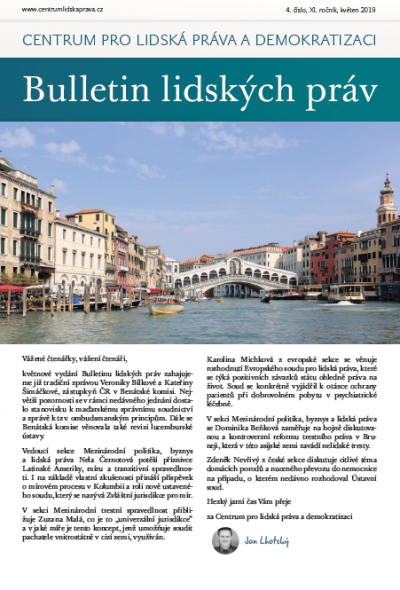 The May Bulletin opens with a traditional report from Veronika Bílková and Kateřina Šimáčková, Czech representatives at the Venice Commission. Within the last session, the most discussed topics were the opinion on the administrative courts in Hungary and the text related to the 'Ombudsman principles'. Apart from the principles, the Venice Commission also focused on a revision of the constitution of Luxembourg.
The head of the section International Politics, Business and Human Rights, Nela Černotová, brings a contribution that will be welcomed by everyone interested in Latin America, peace and transitional justice. Among other things based on her own experience, she discusses the peace process in Colombia, as well as the newly established court, the "Special Jurisdiction for Peace". 
Furthermore, there are a number of articles regarding current human rights developments.  These articles are divided into the following four categories: International Criminal Justice; European System of Human Rights Protection; International Politics, Business and Human Rights; and the Czech Republic and Human Rights.
You can read the Bulletin in PDF version. The Bulletin is in the Czech language.