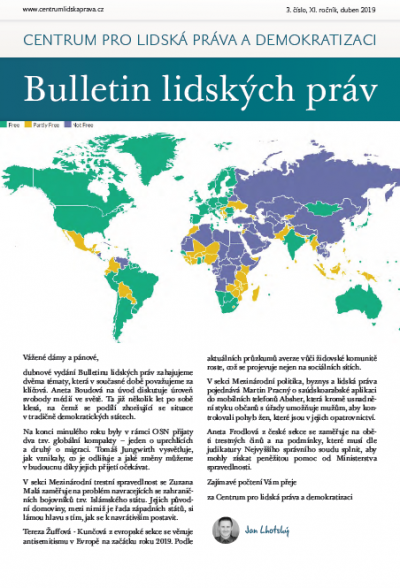 The April Bulletin opens with an article by Aneta Boudová about the current state of the freedom of press in the world. Unfortunately, for several years now  the freedom has been decreasing, partially due to the deterioration of the situation in traditionally democratic states.
At the end of the previous year, two global compacts were adopted within the UN framework, on refugees and migration. Tomáš Jungwirth explains how they came to be, what differentiates one from the other and what contributions we can expect in the future due to their adoption.
Furthermore, there are a number of articles regarding current human rights developments.  These articles are divided into the following four categories: International Criminal Justice; European System of Human Rights Protection; International Politics, Business and Human Rights; and the Czech Republic and Human Rights.
You can read the Bulletin in PDF version. The Bulletin is in the Czech language.