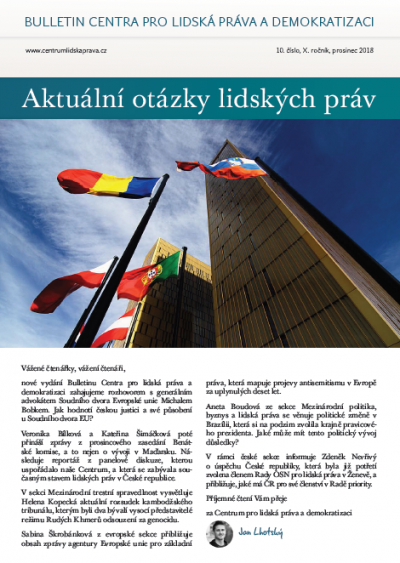 The December Bulletin opens with an interview with an Advocate General of the Court of Justice of the European Union, Michal Bobek. How does the first Czech Advocate General perceive the activity of the principal EU court?
The Czech representatives in the Venice Commission, Veronika Bílková and Kateřina Šimáčková, discuss the outcomes of the December session of the commission, not only about the developments in Hungary.
A report follows from a panel discussion that the Czech Centre organized at the Faculty of Law of the Masaryk University. Its main focus is the current situation of human rights in the Czech Republic.
Furthermore, there are a number of articles regarding current human rights developments.  These articles are divided into the following four categories: International Criminal Justice; European System of Human Rights Protection; International Politics, Business and Human Rights; and the Czech Republic and Human Rights.
You can read the Bulletin in PDF version. The Bulletin is in the Czech language.