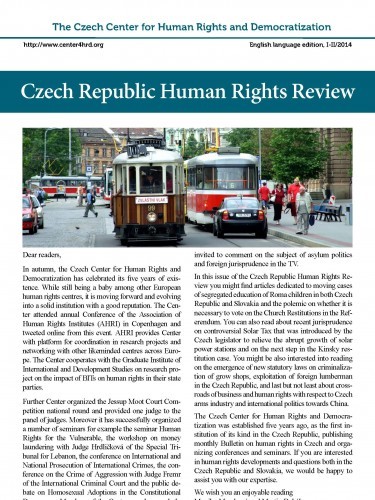 Dear readers, we are proud to bring to you a new issue of the Czech Republic Human Rights Review. In this issue, you might find articles dedicated to moving cases of segregated education of Roma children in both Czech Republic and Slovakia and the polemic on whether it is necessary to vote on the Church Restitutions in the Referendum. You can also read about recent jurisprudence on controversial Solar Tax that was introduced by the Czech legislator to relieve the abrupt growth of solar power stations and on the next step in the Kinsky restitution case. You might be also interested into reading on the emergence of new statutory laws on criminalization of grow shops, exploitation of foreign lumberman in the Czech Republic, and last but not least about crossroads of business and human rights with respect to Czech arms industry and international politics towards China. We wish you an enjoyable reading.
You can read the issue here.
Content
New Case Law Developments on the "Choking Effect" of the Solar Tax
End of "Kinsky Saga" before the ECHR?
Segregated Education: Slovakian dejá vu
The Path of the Tree Workers Case through the Czech Judicial System
Economic Interests of Czech Republic in Confl ict with Human Rights Policy
Referendum on Church Restitutions and the Right to Property
Is it possible to revoke the church restitutions by way of referendum?
Criminalization of Grow Shops
Dismissal of Government Commissioner for Human Rights