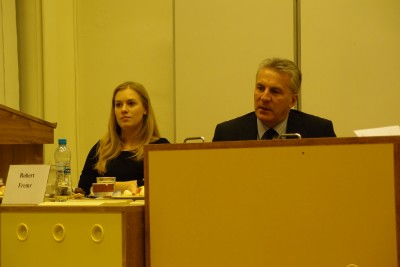 On December 6, the Centre for Human Rights and Democracy organized seminar "International Criminal Court: political and legal limits of effective functioning" in the premises of the Faculty of Law, Masaryk University.
Along with well-known guests - Robert Fremr, future judge at the ICC, and Katerina Uhlirova, who previously worked at the court-martial in Bosnia and Herzegovina - 60 debaters, mostly students of the Faculty of Social Studies, the Faculty of Law, or practitioners (mainly from the Supreme Court), attended the seminar. Students were primarily interested in Mr. Fremr's campaign,in  the political dimension of decision-making in the ICC, in the influence of the Security Council and in the neutral position of the prosecutor.
The seminar was held to mark the tenth anniversary of the International Criminal Court. In the summer of 2002, the Rome Statute was ratified by a sufficient number its signatories and thus the ICC could commence its operations. Czech Republic, although it ratified the Rome Statute as the last country in the European Union, successfully promoted its candidate for a judge in the very next elections. The tenth anniversary, along with this success were ideal opportunities to review the latest developments and the contribution which the authority made in the field of international criminal justice.