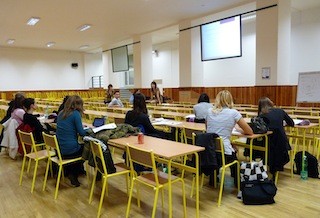 Centre members organized a practical seminar on Discrimination at the Labour Market which took place on 5 November 2012 at the Faculty of Law, Masaryk University.
The first part of seminar focused on legal regulations of non-discrimination related to labour relations. Zuzana Melcrová introduced the Anti-Discrimination Law and presented various grounds of discrimination. Kristina Horňáčková then discussed with the participants different real job offers where both direct and indirect discrimination were analysed. The discussion continued when Miroslav Knob brought in some actual cases from the Office of Ombudsman. In the final part, Katarína Šipulová conclueded with judicial and other forms of protection against discrimination.
The seminar was organized as a side event within JobChallenge, a job fair for students and graduates.