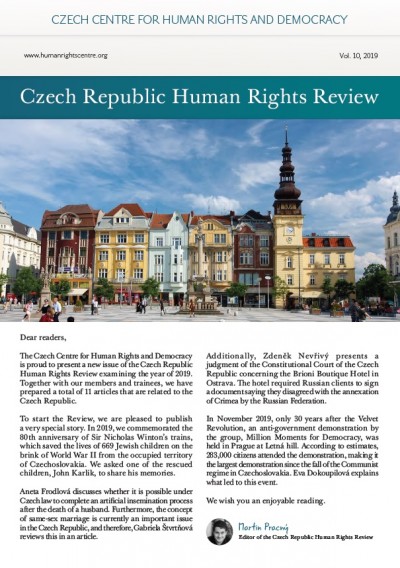 You can download Czech Human Rights Review here.
The Czech Centre for Human Rights and Democracy is proud to present a new issue of the Czech Republic Human Rights Review examining the year of 2019. Together with our members and trainees, we have prepared a total of 11 articles that are related to the Czech Republic.
To start the Review, we are pleased to publish a very special story. In 2019, we commemorated the 80th anniversary of Sir Nicholas Winton's trains, which saved the lives of 669 Jewish children on the brink of World War II from the occupied territory of Czechoslovakia. We asked one of the rescued children, John Karlik, to share his memories.
Aneta Frodlová discusses whether it is possible under Czech law to complete an artificial insemination process after the death of a husband. Furthermore, the concept of same-sex marriage is currently an important issue in the Czech Republic, and therefore, Gabriela Štvrtňová reviews this in an article. 
Additionally, Zdeněk Nevřivý presents a judgment of the Constitutional Court of the Czech Republic concerning the Brioni Boutique Hotel in Ostrava. The hotel required Russian clients to sign a document saying they disagreed with the annexation of Crimea by the Russian Federation.
In November 2019, only 30 years after the Velvet Revolution, an anti-government demonstration by the group, Million Moments for Democracy, was held in Prague at Letná hill. According to estimates, 283,000 citizens attended the demonstration, making it the largest demonstration since the fall of the Communist regime in Czechoslovakia. Eva Dokoupilová explains what led to this event.
We wish you an enjoyable reading.
Content
80th anniversary of Sir Nicholas Winton's trains
Annual Report of the Security Information Service for 2017. Is the Czech democracy endangered?
Completion of the artificial insemination process is not possible after the death of husband
Chinese Christians applied for asylum in the Czech Republic
To register or to get married?
The Crimea Affaire: Entrepreneur's freedom of speech or consumer discrimination?
Million Moments for Democracy at Prague's Letná 
Ombudsman's annual Report on Protection against Discrimination, 2018
When does security "beat" the right of Access to Court?
Will the Czech Republic finally ratify the Istanbul Convention?