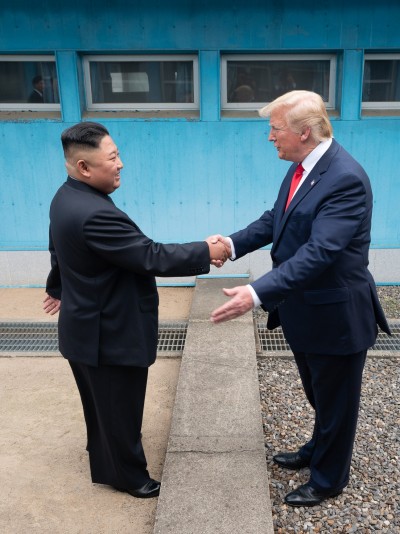 Despite being busy dealing with the coronavirus pandemic, the Korean peninsula may not be as stabilized as it seems. What is the likely scenario of the recent development in North Korea and what should we, and the US in particular, be aware of?
When it comes to North Korea, the most serious security concern is certainly its pursuit of nuclear weapons and long-range missiles. Although nuclear negotiations between the United States and North Korea have been going on for more than thirty-five years, they have not come to a long-lasting agreement.
The evolution of negotiations between  Kim Jong-un and Donald Trump
When Donald Trump became the US president in January 2017, the diplomacy of "strategic patience", which had so far been promoted by the Obama administration, suddenly shifted. In November 2017, less than a year after coming into office, the new head of state called North Korea a state sponsor of terrorism. Soon, Pyongyang announced its capability of reaching the US soil with nuclear-tipped intercontinental ballistic missiles. In response, the Trump administration threatened North Korean authorities with a military strike. 
The tensions substantially calmed down in the following year when President Trump accepted an invitation to meet Kim Jong-un in Pyongyang. Apart from planning to meet with the US president, Kim Jong-un visited its South Korean counterpart, President Moon Jae-in, in Panmunjom to hold bilateral talks. As a result, both Korean leaders affirmed their will to achieve a nuclear-free Korean Peninsula.
In May 2018, the US-North Korean relations swayed back and forth. North Korea demonstrated good faith when releasing three US prisoners and demolishing the nuclear test site at Punggye-ri, but it also accused the US of cornering North Korea during the negotiations and expressed feelings of "repugnance" towards the US National Security Advisor John Bolton. Following that, President Trump pulled out of the meeting in Singapore because of the "anger and hostility" North Korea showed in its statements. However, in June 2018, both leaders finally decided to meet in person and signed a joint statement about their shared goal – peace and complete denuclearization of the Korean Peninsula.
Their next summit took place in February 2019 in Vietnam, but unlike half a year ago, it ended in a stalemate. The reason was the leaders' disagreement over sanctions relief and denuclearization. According to President Trump, Kim Jong-un suggested dismantling the nuclear and fissile material production in exchange for a complete sanctions relief. However, the North Korean officials claimed that Kim's demand was for only partial sanctions relief. 
So far, the last meeting between the US and the North Korean heads of state took place in the Demilitarized Zone separating North and South Korea, making President Trump the first sitting US president to set foot in North Korean territory.
Coronavirus pandemic as a veil for military preparations?
In January 2020, the North Korean leadership decided to close borders to prevent the spread of coronavirus into the country. One month later, Kim Jong-un suddenly disappeared from the public for more than twenty days without an explanation. The same situation repeated three months later, in April and May, leaving international experts with concern that such behaviour might foreshadow a coming crisis.
Renewed tensions could escalate because of the significant development of North Korea's nuclear and missile capabilities. Since the beginning of 2020, the country has tested short-range ballistic missiles at least five times. Intensified missile testing appears to be linked to the decision of the plenum of the Workers' Party of Korea (WPK), which was held in December 2019. As a result, Kim Jong-un said that it is the Party's steady goal in defence upbuilding to possess a matchless military capability no one dares to challenge and bolster it on. He also stressed that it is the core idea and firm will of the WPK in defence upbuilding to make no forces, whoever they are, dare use their armed force against the country. So far, the Trump administration has not raised any serious objections against the testing, although it violates several UN Security Council resolutions.
The role of international sanctions
Another problem that could lead to a crisis in the region is the growing economic duress in North Korea due to the effects of both international sanctions and the coronavirus pandemic. The country has recently reduced its imports and tried to raise currency by floating domestic bonds, implying an ongoing hard currency crisis. Additionally, the self-imposed quarantine has cut off the country's supply chains and thus became more effective than sanctions themselves. In fact, both externally and internally imposed measures could cause critical price spikes and supply shortages.
An important factor might also be the weakening of the UN Security Council's sanctions regime brought about by China's pursuit to stabilize North Korea. North Korea could use all subsequent tensions that might rise between China and the US. Further deterioration of the Korean-American relations could then result in China further cooperating with North Korea to circumvent the UN Security Council's sanction regime.
Another factor Kim Jong-un is probably considering are the upcoming US presidential elections. If President Trump is re-elected, North Korea could use military provocations again to gain the upper hand and shape the bilateral negotiations. If a president from the Democratic Party is elected, the North Korean regime could exert pressure as well to gain the attention of the new administration. 
References
Bicker, Laura (2020). Coronavirus in North Korea: Kim Jong-un claims 'shining success'. BBC, 3 July 2020, available at: <https://www.bbc.com/news/world-asia-53274152>.
Council on Foreign Relations (2019). North Korean Nuclear Negotiations, available at:  <https://www.cfr.org/timeline/north-korean-nuclear-negotiations>.
Snyder, Scott A. (2020). North Korea's Coronavirus Quarantine: More Effective Than Sanctions. Council on Foreign Relations, 6 March 2020, available at:  <https://www.cfr.org/blog/north-koreas-coronavirus-quarantine-more-effective-sanctions>. 
Snyder, Scott A. (2020). Renewed Crisis on the Korean Peninsula. Council on Foreign Relations, 4 July 2020, available at:  <https://www.cfr.org/report/renewed-crisis-korean-peninsula>.
Weitz, Richard (2020). Pyongyang's Choreographed Crisis Calls for Renewed China-U.S. Action in Korea. China US Focus, 2 July 2020, available at: <https://www.chinausfocus.com/foreign-policy/pyongyangs-choreographed-crisis-calls-for-renewed-china-us-action-in-korea>.
Photographs
Trump meets Kim in the Korean Demilitarized Zone. President Trump Meets with Chairman Kim Jong Un (48162628746), author: The White House, 30 June 2019, source: Wikimedia Commons, CC0, edits: cropped.