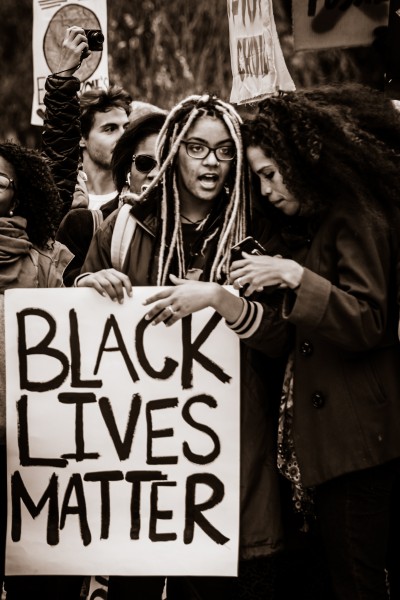 The United States is currently undergoing changes in its society. However, these changes have been long overdue. Most notably has been a fight to increase police transparency and to better hold police officers accountable for their wrongdoings, leading to an increasing divide between those supporting the protests and those against the protests. Why are the protests occurring and what do they mean for a possible future of the US?
The Start of "Black Lives Matter"
In 2012, George Zimmerman, a captain on a "neighborhood watch" in Sanford, Florida called the authorities with reports of a suspicious person. The authorities clearly informed Zimmerman to stand down, not leave his vehicle and to not approach the person. However, Zimmerman disregarded every single one of these instructions and ended up shooting and killing Trayvon Martin, an unarmed black 17-year-old carrying a bag of skittles and a bottle of juice. Zimmerman was ultimately acquitted of all charges in the case. As of December 4, 2019, Zimmerman filed a $100 million lawsuit against Martin's parents. The lawsuit accuses prosecutors, Martin's parents and authorities of witness tampering. 
As a result of the killing, protests enraged. On July 13, 2013, "#BlackLivesMatter" appeared for the first time on Twitter resulting from Zimmerman's acquittal. Following this event have been countless instances of police brutality against unarmed Black Americans. On July 17, 2014, Eric Garner had an encounter with police officers in New York City. The officers suspected him of selling illegal, untaxed cigarettes. He died in a police chokehold. 
Less than one month later, on August 9, 2014, Michael Brown, a black 18-year-old, was shot and killed in Ferguson, Missouri. He was walking down the middle of a small road, a police officer, Darren Wilson, asked him to use the sidewalk, an interaction between the officer and Brown followed, ultimately culminating in Brown's death. He was unarmed, and even more, according to witnesses, had his hands raised above his head when the officer murdered him. In 2015, the Justice Department stated that the officer was acting in self-defence. As of July 30, 2020, St. Louis prosecutors have stated charges will not be brought against Wilson. These are just a few of the high-profile cases of the murder of unarmed Black Americans at the hands of a police officer, there are countless others. Yet, none of them had a day in court and the punishment clearly did not fit the crime. 
George Floyd and the 2020 protests
The murder of George Floyd made worldwide headlines and resulted in protests in major cities all around the world. In May 2020, in Minneapolis, Minnesota, police were called for someone, George Floyd, passing a counterfeit $20 bill. George Floyd, while hand-cuffed, had a police officer kneel on his neck for 8 minutes and 46 seconds, resulting in his death. During this time, another officer held down Floyd's back while two others simply watched as Floyd struggled to say, "Please, I can't breathe." The encounter was videotaped, resulting in a public murder on national TV. Officer Derek Chauvin, who had already had ten complaints against him without ever facing any form of disciplinary action, was ultimately charged with murder. The other three officers were charged with "aiding and abetting second-degree murder." 
Due to this encounter, the "Black Lives Matter" movement, although never gone, has had a strong resurgence all across America and around the world. At least 140 cities in the US have entered into protests and as a result, the national guard has been mobilized in at least 23 states. Some police forces have responded peacefully, such as in Flint, Michigan, where the police force marched and peacefully protested with the civilians, or in Houston, Texas, where the police chief thanked those undertaking peaceful protests, whereas others have responded more violently. For example, an owner of a restaurant was killed when the National Guard shot at protestors in Louisville, Kentucky. Protestors have been shot in the head and killed in Austin, Texas. In Buffalo, New York, a 75-year-old protestor was shoved to the ground by police officers, resulting in brain injury. The police officers walked by without offering him subsequent help. 
Most of the protests have been peaceful, but not all. Many have resulted in rioting and looting. However, a countless number of the protests, whether peaceful or violent, have resulted in police using tear gas, curfews and unnecessary forms of violence to break them up, even at the expense of the constitutional right to peacefully protest. President Donald Trump responded to this constitutional right by using tear gas and police brutality to break up a peaceful protest in Washington D.C. in order to allow him to undertake a photo opportunity. Additionally, he has voiced support for "domination" and using "overwhelming force" against the protests. 
What has resulted from the protests?
While change has begun to occur, it has not been nearly enough. The protestors have demanded not only accountability for the wrongdoings and violence of police officers going forwards, but also for past actions. For example, Breonna Taylor, who was "a 26-year-old emergency room technician" was shot dead in her apartment on March 13, 2020 in Louisville, Kentucky. Officers involved had a "no-knock" warrant and used a battering ram to force their way into her private residence on narcotics related suspicions. Taylor's boyfriend, Kenneth Walker, who is a licensed gun owner, responded to the home invasion by shooting in self-defense at the invaders. The police officers responded by firing over 25 bullets, shooting Taylor at least eight times, resulting in her death. No drugs or anything illegal were found in Taylor's apartment. 
On June 11, "no-knock" warrants were declared illegal in Louisville. One of the police officers involved in the death of Taylor has been fired. Nothing else has happened. 
As a result of the ongoing protests, six years after Eric Garner was choked to death by police officers, Mayor Bill de Blasio outlawed police chokeholds in New York City.
Additionally, numerous officers have been fired during the ongoing protests, for example, Atlanta police officers when they used "excessive force" on protestors. However, when committing assaults against the people you are supposed to be protecting, is firing someone enough?
The Confederacy and protection of US history
"Black Lives Matter" organizers claim the "mission is to eradicate white supremacy and build local power to intervene in violence inflicted on Black communities." Many protestors have advocated for removing statues commemorating the Confederacy as well as banning the flying of the Confederate flag. Many people support these moves, while others adamantly oppose the destruction of the statues, citing the destruction of American history. However, removing a statue commemorating people who committed crimes against humanity does not erase them from history. Statues of Adolf Hitler, Joseph Stalin and countless others have been torn down because of the atrocities they committed, yet their actions and lives are still studied in schools. President Trump has responded by authorizing federal agents to arrest anyone tampering with the statues. 
Another point of interest is the Confederate flag. Many protestors are pushing for a ban on flying the Confederate flag. NASCAR has officially banned it from their events. The state of Mississippi, which had the Confederate flag as a part of its State flag has voted to remove it and no longer flies the Confederate flag. Many in support of flying the flag cite freedom of speech, regional pride and heritage and claim the flag stands for State's rights. In reality, by defending the Confederate flag, the State effectively sanctions symbols of discriminatory and racist policies prevalent in the past. From the point of citizens, even freedom of speech is not unlimited as it must respect the dignity of other individuals. 
As a result of the protests, things have changed, but not nearly enough. Not all police officers abuse their powers, and most people do not believe they do; many are good citizens and professionals who uphold the law. Yet, people are demanding higher police and law enforcement accountability, as well as increased transparency. Is this too much to ask? 
Unfortunately, this is not happening in reality. As of July 2020, President Trump has deployed federal law enforcement officers that are using unmarked vehicles to basically "kidnap" protestors in Portland, Oregon. Officers, wearing camouflage, covering their faces with masks and sunglasses are exiting unmarked vehicles, grabbing protestors from the street, not telling them anything, not informing the protestors who they are, and pulling them into the unmarked vehicles and taking them to undisclosed locations. Trump has not only voiced support for this activity but has even promised to send more to other cities, such as Chicago, which according to his critics is an election ploy. This is moving in the opposite direction of transparency. 
Therefore, tearing down statues and flags commemorating a very dark time in the history of the United States and passing laws on increased transparency to hold police officers more accountable are good things! Yet, not enough. Change must be continuous and never ending. America is hurting…and it is about time! 
References
Anderson, Monica. The Hashtag #BlackLivesMatter emerges: Social activism on Twitter, Pew Research Center, 15 August 2016, accessed 18 July 2020 (https://www.pewresearch.org/internet/2016/08/15/the-hashtag-blacklivesmatter-emerges-social-activism-on-twitter/). 
AP News. Timeline of events in shooting of Michael Brown in Ferguson, AP News, 8 August 2019, accessed 17 July 2020 (https://apnews.com/9aa32033692547699a3b61da8fd1fc62).
BBC News. Michael Brown: Ferguson officer won't be charged for 2014 killing, 30 July 2020, accessed 31 July 2020 (https://www.bbc.com/news/world-us-canada-53603923).
Betz, Bradford. Mississippi lawmakers vote to remove Confederate battle emblem from its flag, Fox News, 28 June 2020, accessed 19 July 2020 (https://www.foxnews.com/us/mississippi-flag-confederate-battle-emblem-house-vote).
Black Lives Matter. Black Lives Matter, accessed 18 July 2020 (https://blacklivesmatter.com/).
Carrega, Christina. Timeline: Inside the investigation of Breonna Taylor's killing and its aftermath, ABC News, 20 June 2020, accessed 18 July 2020 (https://abcnews.go.com/us/timeline-inside-investigation-breonna-taylors-killing-aftermath/story?id=71217247).
CNN. Trayvon Martin Shooting Fast Facts, 16 February 2020, accessed 18 July 2020 (https://www.cnn.com/2013/06/05/us/trayvon-martin-shooting-fast-facts/index.html).
Croft, Jay. A sheriff put down his baton to listen to protesters. They chanted 'walk with use,' so he did, CNN, 31 May 2020, accessed 21 July 2020 (https://www.cnn.com/2020/05/31/us/flint-michigan-protest-police-trnd/index.html).
Duvall, Tessa. FACT CHECK: Debunking 7 widely shared rumors in the Breonna Taylor police shooting, Courier Journal, 16 June 2020, accessed 19 July 2020 (https://www.courier-journal.com/story/news/crime/2020/06/16/breonna-taylor-fact-check-7-rumors-wrong/5326938002/).
Ferdman, Roberto A. What the Confederate flag really means to America today, according to a race historian, The Washington Post, 19 June 2015, accessed 18 July 2020 (https://www.washingtonpost.com/news/wonk/wp/2015/06/19/what-the-confederate-flag-really-means-to-america-today-according-to-a-race-historian/).
Fieldstady, Elisha. The 75-year-old man shoved to ground by Buffalo police suffered brain injury, lawyer says, NBC News, 12 June 2020, accessed 18 July 2020 (https://www.nbcnews.com/news/us-news/75-year-old-man-shoved-ground-buffalo-police-suffered-brain-n1230421).
Fitz-Gibbon, Jorge. Here's everything we know about the death of George Floyd, New York Post, 28 May 2020, accessed 16 July 2020 (https://nypost.com/2020/05/28/everything-we-know-about-the-death-of-george-floyd/). 
Fox 59. Police officer involved in Breonna Taylor's death fired, 24 June 2020, accessed 18 July 2020 (https://fox59.com/news/police-officer-involved-in-breonna-taylors-death-fired/).
History.com. Florida teen Trayvon Martin is shot and killed, 24 February 2020, accessed 18 July 2020 (https://www.history.com/this-day-in-history/florida-teen-trayvon-martin-is-shot-and-killed).
Jacobs, Emily. Trump authorizes feds to arrest people vandalizing, taking down monuments, New York Post, 23 June 2020, accessed 18 July 2020 (https://nypost.com/2020/06/23/trump-authorizes-feds-to-arrest-people-vandalizing-monuments/). 
Knox, Patrick and Tom Herbert. FIGHT AGAINST RACISM What is Black Lives Matter and how did it start?, The Sun, 6 June 2020, accessed 18 July 2020 (https://www.thesun.co.uk/news/3261117/what-is-black-lives-matter-how-start/).
Maddaus, Gene. Three More Officers Charged in George Floyd's Death, Variety, 3 June 2020, accessed 16 July 2020 (https://variety.com/2020/politics/news/george-floyd-death-three-more-officers-charged-1234624438/#!).
Manchester, Julia. Majority say Confederate statues should remain: poll, The Hill, 23 June 2020, accessed 17 July 2020 (https://thehill.com/homenews/news/504130-majority-say-confederate-statues-should-remain-poll).
McCarthy, Kelly. Confederate flag officially banned by NASCAR at events, ABC News, 10 June 2020, accessed 18 July 2020 (https://abcnews.go.com/US/nascar-announces-ban-confederate-flags-races-events/story?id=71182898).
McCarthy, Niall. Which U.S. States Have Deployed The National Guard In Response To The Protests? [Infographic], Forbes, 2 June 2020, accessed 29 July 2020 (https://www.forbes.com/sites/niallmccarthy/2020/06/02/which-us-states-h…).
NBC New York. Mother of Eric Garner on Anniversary of Chokehold Death: 'Don't Let the Fire Burn Out', 17 July 2020, accessed 19 July 2020 (https://www.nbcnewyork.com/news/local/mother-of-eric-garner-on-anniversary-of-chokehold-death-dont-let-the-fire-burn-out/2519116/).
NBC News. May 30 coverage of nationwide unrest and ongoing protests, 31 May 2020, accessed 21 July 2020 (https://www.nbcnews.com/news/us-news/blog/george-floyd-death-nationwide-protests-live-updates-n1219376/ncrd1219456#blogHeader).
NPR. Federal Officers Use Unmarked Vehicles To Grab People in Portland, DHS Confirms, 17 July 2020, accessed 18 July 2020 (https://www.npr.org/2020/07/17/892277592/federal-officers-use-unmarked-vehicles-to-grab-protesters-in-portland). 
O'Reilly, Andrew. Trump to 'surge' federal agents to Chicago, other cities, amid spike in violent crime, Fox News, 22 July 2020, accessed 29 July 2020 (https://www.foxnews.com/politics/trump-surge-federal-chicago-spike-violent-crime).
Phelan, John. The Riots: The Constitutional right to peaceful protest must be upheld, but that does not include rioting, American Experiment, 5 June 2020, accessed 19 July 2020 (https://www.americanexperiment.org/2020/06/the-riots-the-constitutional-right-to-peaceful-protest-must-be-upheld-but-that-does-not-include-rioting/). 
Phelps, Jordyn. Trump praises 'overwhelming force' and 'domination' in DC morning after peaceful protest broken up for photo op, ABC News, 3 June 2020, accessed 19 July 2020 (https://abcnews.go.com/Politics/trump-praises-overwhelming-force-domination-dc-morning-peaceful/story?id=71018509). 
Sheriff, Lucy. 'FIRST STEP TOWARDS JUSTICE' George Floyd death cop Derek Chauvin is charged with third-degree murder after kneeling on dad during arrest, The Sun, 29 May 2020, accessed 17 July 2020 (https://www.thesun.co.uk/news/11740733/cop-knelt-george-floyds-neck-taken-custody-murder/).
Smith, David. Trump's vow to send federal officers to US cities is election ploy, critics say, The Guardian, 21 July 2020, accessed 21 July 2020 (https://www.theguardian.com/us-news/2020/jul/20/donald-trump-us-cities-federal-agents-officers). 
Taylor, Derrick Dryson. George Floyd Protests: A Timeline, NY Times, 10 July 2020, accessed 18 July 2020 (https://www.nytimes.com/article/george-floyd-protests-timeline.html). 
Thomas, Byron. I am a black South Carolinian. Here's why I support the Confederate flag, The Washington Post, 24 June 2015, accessed 18 July 2020 (https://www.washingtonpost.com/posteverything/wp/2015/06/24/i-am-a-black-south-carolinian-heres-why-i-support-the-confederate-flag/). 
USA Today. From Eric Garner's death to firing of NYPD officer: A timeline of key events, USA Today, 20 August 2019, accessed 18 July 2020 (https://www.usatoday.com/story/news/2019/08/20/eric-garner-timeline-chokehold-death-daniel-pantaleo-fired/2059708001/).
Vera, Amir. 2 Atlanta officers fired after video shows them tasing man and using 'excessive force' on woman, mayor says, CNN, 4 June 2020, accessed 19 July 2020 (https://www.cnn.com/2020/06/01/us/atlanta-cops-fired-excessive-force/index.html).
Photograph
Black Lives Matter, author: Johnny Silvercloud, 10 November 2015, Flickr, CC BY-SA 2.0.