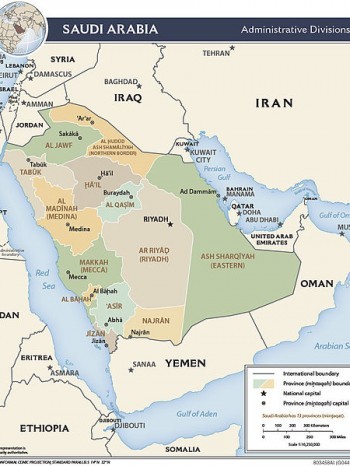 The Absher App is an application launched by the Interior Ministry of the Saudi government in 2015. Some focus on how the app reduces bureaucracy while others emphasis the ability of the app to allow men to track the location of women. Since its release it has generated minimal public discussion, however, the debate has been increasing.
In order to fully understand and appreciate the significance of this App, one must first be familiar with the "guardianship laws" existent in Saudi Arabia. Very briefly, guardianship laws grant certain rights to a "guardian" of a woman. Every woman in Saudi Arabia, no matter how old she is, has a male guardian. This could be her father, husband, brother or son. This male guardian must give her permission to obtain passports, undergo various medical procedures and get married. Opponents to guardianship laws believe these laws give women a status similar to minors.
What is the Absher App?
The Absher App, an e-services app available in Saudi Arabia, is thought to be a beneficial government platform by some, in which the Saudi citizens are freed from bureaucratic inefficiencies and endless lines for common services. The Saudi government has officially denounced the allegations against the app, which will be examined shortly. Instead, it is claimed that the app centralizes more than 160 services for all in the society. According to the government, the app allows direct access to government services from anywhere in the kingdom. Furthermore, it allows residents to make appointments, renew passports, IDs and driver's licenses, etc. Before the app, Saudis have said that it could take weeks to arrange government appointments, such as for passports and that they relied on their "malaf allagi," a paper version of this app, also known as the citizens lifeline.
Conversely, through the application, the guardian of a woman has the ability to manage that woman. Men can revoke women's right to travel through airports. They can also monitor and track women by their passports and identity cards. Additionally, the guardian has the ability to receive notifications when the women under his guardianship enter an airport. So how does the Absher app, an application that on one hand helps women and citizens in Saudi Arabia with everyday government procedures, fall under repression towards women?
Is the App Good or Bad?
Depending on who one asks, the answer to this question will vary drastically. On one side, those such as U.S. Democratic Senator Ron Wyden and various women's rights groups consider it a "tool of repression" towards women.  Others say the app "enables abhorrent surveillance and control of women." Representative Katherine Clark said that "Absher is a patriarchal weapon: it allows Saudi men to track women, restrict their travel and enable human rights violations." Others becoming involved include Representative Carolyn Maloney and many outside the US, such as Dutch MP Kees Verhoeven, Senator Eric Abetz in Australia, and the Foreign and Commonwealth Office of the UK.
However, according to the US born Saudi Arabian, Muna Abu Sulayman, a strategy advisor and Secretary General of the "Alwaleed Bin Talal Foundation" as well as one of the "Most Influential Arab Women" , the Absher app has actually helped to strengthen women's rights. Sulayman further responded to the allegations regarding their guardianship laws and the app; saying that people do not fully understand when they are making comments from abroad. She called it an "idealistic and naïve way of understanding." Sulayman said that the Saudi society is moving towards equality and that the app is a beneficial step in the right direction. She further stated that an amendment of the guardianship laws must be something undertaken by the Saudi society and not due to outside pressure. Furthermore, it must be re-iterated that although this app gives all the previously mentioned power to the guardian, Sulayman says that many men do not believe in controlling women or the guardianship laws and give the women under their guardianship full access to their own Absher account.
The Response
Ultimately, the positives and negatives of the app are not fully known. As the Saudi regime is one of relative secrecy, much of the details of the app and the ways in which it is used in reality are not known facts. However, Senator Wyden as well as women's rights activists are becoming more outspoken against the app. Senator Wyden wrote a letter in which he stated, "It is hardly news that Saudi monarchy seeks to restrict and repress Saudi women, but American companies should not enable or facilitate the Saudi government's patriarchy."
In an attempt to persuade Apple and Google to become involved, Wyden addressed Tim Cook and Sundar Pichai, the respective company CEO's, and said that the companies were enabling Saudi men to manage and control their families and restrict their movements through these apps.  Furthermore, he requested that the companies stop being used by the government of Saudi Arabia in order to monitor and control women. Cook has responded saying he was unaware of the app and that they will assess the situation in order to ensure the app's usage is consistent with the policies of Apple. Most recently, Google stated that the app meets their terms and conditions and is not in violation of any agreements and therefore, will not be removed from the Google Play store.
Many issues have the possibility of arising from the attempts of activists around the globe to remove the app. Most specifically, some feel that although the app restricts women, if the app is removed, women will be even further restricted. For example, before the app, traveling and restrictions on traveling were even more burdensome, so many "guardians would use that as excuse to keep women at home."
Ultimately, it seems that most opponents to the app feel that it is another way to continue Saudi Arabia's controversial guardianship laws, which many women, and men, are trying to change. In order to reach a gender equal society many activists feel that the guardianship laws must be amended, which for some, the removal of the app is a necessary step in this direction. However, it seems that this should be done with extreme care and caution.
It seems the app has two completely different sides, with the people discussing the app only ever mentioning one of the sides, thus leading to discrepancy and biased information for the public to read. Those in favor of the app do not mention the ability of the guardians to restrict women's movement instead only discussing the extreme benefits it has brought them in the area of government bureaucracy. They have the electronic ability to schedule appointments and do all sorts of activities through the app that could not have been done before. Furthermore, many feel that through the availability of these activities, the app is a right direction in the way towards gender equality.
However, those against the app only mention the information about the guardianship laws and the power it gives to men to control women, seemingly at the expense of the qualities of the app. Therefore, depending on what side one is on, that is all they see. It seems that Google and Apple are making the right decisions by investigating the functions of the app. Google has responded by saying the app will not be removed, however Apple has not issued further statements. Once it has been determined, from an unbiased perspective, what in fact the app is being used for and what powers it in fact gives to men or women, a better response can be undertaken. Perhaps this could include limiting some of the functions of the app, but it seems the complete removal of the app could also have negative consequences.
In the end, it seems that those from abroad pushing for gender equality in Saudi Arabia, should not try to "control" what the government can do in regards to the app and their guardianship laws. Instead they should support decisions moving towards  equality and speak out against those going in the opposite direction, but ultimately allow the Saudi society to change on its own. Many in Saudi Arabia want gender equality, but some have stated that outside pressure will not lead to lasting change, and that the change must come from within the society.
References
Boshtock, Bill. "Google joins Apple in probing Saudi app that lets men control where women travel, as pressure piles on the tech giants to kill the service." February 14, 2019. Accessed February 17, 2019. https://www.businessinsider.com/google-joins-apple-probe-saudi-absher-app-2019-2.
Bostock, Bill. "Google, siding with Saudi Arabia, refuses to remove widely-criticized government app which lets men track women and control their travel." March 2, 2019. Accessed March 25, 2019. https://www.thisisinsider.com/absher-google-refuses-to-remove-saudi-gov….
Hubbard, Ben. "Apple and Google Urged to Dump Saudi App That Lets Men Track Women." The New York Times. February 13, 2019. Accessed February 17, 2019. https://www.nytimes.com/2019/02/13/world/middleeast/saudi-arabia-app-women.html?rref=collection%2Ftimestopic%2FHuman%20Rights%20and%20Human%20Rights%20Violations&action=click&contentCollection=timestopics&region=stream&module=stream_unit&version=latest&contentPlacement=4&pgtype=collection.
Lovejoy, Ben. "Tim Cook says unaware of Absher app, used to spy on Saudi women, promises to investigate." 9 to 5 Mac. February 13, 2019. Accessed February 17, 2019. https://9to5mac.com/2019/02/13/absher-app/.
Mahdawi, Arwa. "Calls to ban the Saudi 'wife-tracking' app could be counterproductive." The Guardian. February 16, 2019. Accessed February 17, 2019. ttps://www.theguardian.com/world/commentisfree/2019/feb/16/saudi-arabia-wife-tracking-app-absher-politicans-complicit.
"Muna AbuSulayman." Global Teacher Prize. Accessed March 23, 2019. https://www.globalteacherprize.org/es/person?id=1752.
Radwan, Rawan. "How 'Absher' app liberates Saudis from government bureaucracy." Arab News. February 17, 2019. Accessed February 17, 2019. http://www.arabnews.com/node/1453341/saudi-arabia.
Photograph
Arabia-Saudi political map, author: cia.gov World fact book, source: Wikimedia commons, Public domain.