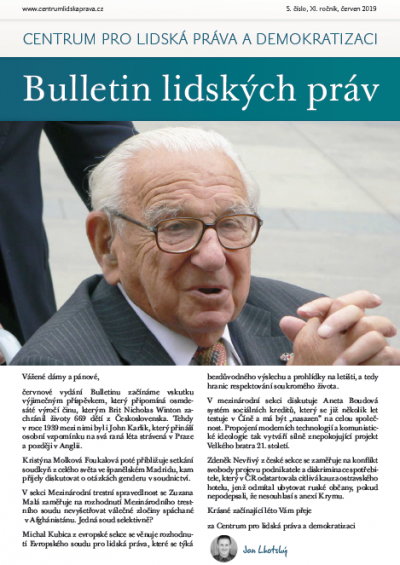 The June Bulletin opens with an exceptional contribution (in English) commemorating the 80th anniversary of when the Briton, Nicholas Winton, saved the lives of 669 children from Czechoslovakia. At that time in 1939, John Karlik was among those saved and brings us a personal recollection on his early years spent in Prague and later in England.
Kristýna Molková Foukalová then writes about a meeting in Madrid of female judges from all over the world, where they discussed the topic of gender in the judiciary.
Furthermore, there are a number of articles regarding current human rights developments.  These articles are divided into the following four categories: International Criminal Justice; European System of Human Rights Protection; International Politics, Business and Human Rights; and the Czech Republic and Human Rights.
You can read the Bulletin in PDF version. The Bulletin is in the Czech language.