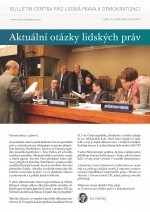 We open the two-month issue of the Bulletin with an external contribution of Kristýna Horňáčková, who as part of the Czech delegation took part in the international conference in New York. This conference  approved the extension of the jurisdiction of the International Criminal Court for the crime of aggression.
There is also  an article by Kateřina Šimáčková regarding the December session of the Venice Commission, which focused mainly on Poland. The author explains, among other things, two critical opinions of the Polish act on the public prosecutor's office and on the reform of Polish judiciary.
Furthermore, there are a number of articles regarding current human rights developments.  These articles are divided into the following four categories: International Criminal Justice; European System of Human Rights Protection; International Politics, Business and Human Rights; and the Czech Republic and Human Rights.
You can download the Bulletin in PDF version. The Bulletin is in the Czech language.