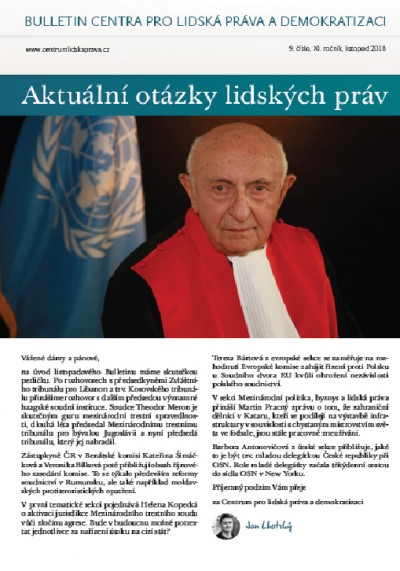 The November Bulletin opens with an exceptional contribution - following the interviews with the Presidents of the Special Tribunal for Lebanon and the so-called Kosovo Chambers, we bring an interview with another President of a judicial institution based in The Hague. Judge Theodor Meron is a real guru of international criminal justice who presided for many years over the International Criminal Tribunal for the former Yugoslavia. Currently he presides over the tribunal that replaced it.
Additionally, the Czech representatives in the Venice Commission, Kateřina Šimáčková and Veronika Bílková, discuss the outcomes of the October session of the commission. It mainly concerned a reform of judiciary in Romania but also counter-terrorist measures in Moldova.
Furthermore, there are a number of articles regarding current human rights developments.  These articles are divided into the following four categories: International Criminal Justice; European System of Human Rights Protection; International Politics, Business and Human Rights; and the Czech Republic and Human Rights.
You can read the Bulletin in PDF version. The Bulletin is in the Czech language.