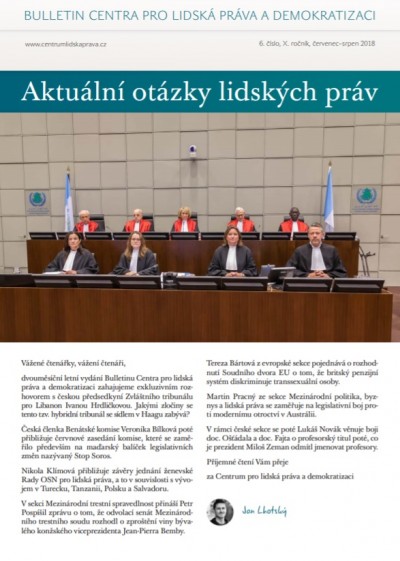 Our two-month summer Bulletin opens with an exclusive interview with the Czech President of the Special Tribunal for Lebanon, Judge Ivana Hrdličková. What crimes does this so-called hybrid tribunal based in The Hague focus on?
Additionally, the Czech member of the Venice Commission, Veronika Bílková, discusses in detail the June session of the commission that elaborated mainly on the Hungarian package of legislative amendments referred to as Stop Soros.
Nikola Klímová then discusses the outcomes of the Geneva-based UN Human Rights Council in connection with the developments in Turkey, Tanzania, Poland and El Salvador.
Furthermore, there are a number of articles regarding current human rights developments.  These articles are divided into the following four categories: International Criminal Justice; European System of Human Rights Protection; International Politics, Business and Human Rights; and the Czech Republic and Human Rights.
You can read the Bulletin in PDF version. The Bulletin is in the Czech language.