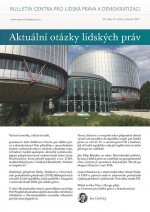 As we invited new interns to write on the Bulletin and two new heads of sections of the Centre, we are bringing the December issue of the Bulletin of the Czech Centre for Human Rights and Democracy to the readers in a little bit altered composition of our team. We hope you will be happy with the result in terms of the articles.
We are opening the issue with a contribution of our new head of Czech section, Lucie Nachvátalová, who shared her experiences with The European Master's Programme in Human Rights and Democratisation (E.MA) in the beautiful Venice. Would you like to get inspired?
A contribution by Šárka Dušková follows. The article focuses on the Universal Periodic Review (UPR) of the human rights obligations of the Czech Republic. The UPR took place in November in the UN Human Rights Council in Geneva.
Furthermore, there are a number of articles regarding current human rights developments.  These articles are divided into the following four categories: International Criminal Justice; European System of Human Rights Protection; International Politics, Business and Human Rights; and the Czech Republic and Human Rights.
You can download the Bulletin in PDF version. The Bulletin is in the Czech language.