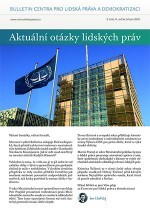 The March issue of the Bulletin opens with Helena Kopecká and an exclusive interview with the international prosecutor of the Extraordinary Chambers in the Courts of Cambodia, Nicolas Koumjian. What are the main challenges of the court regarding justice for the crimes of the Khmer Rouge in Cambodia?
In March it has already been seven years since the outbreak of the Syrian civil war. However, there has been no justice for the perpetrators of the crimes committed. Jan Lhotský focuses on the current options of national prosecutions, as well as the desired future role of the international criminal judiciary.
Furthermore, there are a number of articles regarding current human rights developments.  These articles are divided into the following four categories: International Criminal Justice; European System of Human Rights Protection; International Politics, Business and Human Rights; and the Czech Republic and Human Rights.
You can download the Bulletin in PDF version. The Bulletin is in the Czech language.