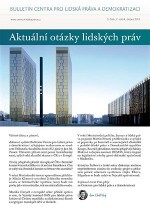 The April Bulletin of the Czech Centre for Human Rights and Democracy opens with an interview with Jan M. Passer, a Czech judge at the General Court which is part of the Court of Justice of the European Union. The topic of the interview is not only the court in Luxembourg, but also the current developments in the Czech Republic and Europe.
The following contribution is brought by the Czech representatives in the Venice Commission, Veronika Bílková and Kateřina Šimáčková. What did the Venice Commission focus on during its March session?
Furthermore, there are a number of articles regarding current human rights developments.  These articles are divided into the following four categories: International Criminal Justice; European System of Human Rights Protection; International Politics, Business and Human Rights; and the Czech Republic and Human Rights.
You can download the Bulletin in PDF version. The Bulletin is in the Czech language.