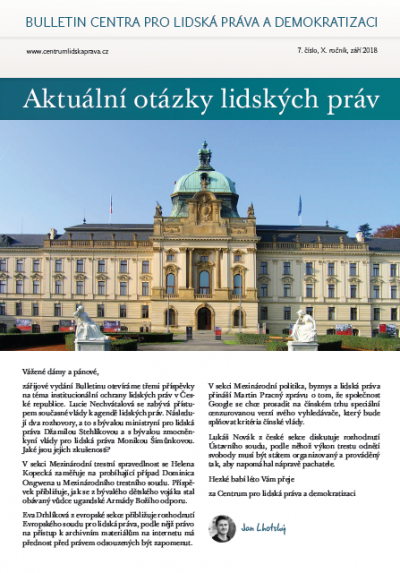 The September Bulletin opens with three contributions discussing the institutional set-up of human rights protection in the Czech Republic. Lucie Nechvátalová focuses on the question of whether it is sufficient to have the human rights agenda under the Ministry of Justice or if it is more suitable to have a separate person responsible for it. Two interviews follow, the first with the former minister of human rights, Džamila Stehlíková, and the second with the former government's plenipotentiary for human rights, Monika Šimůnková. What are their experiences?
Furthermore, there are a number of articles regarding current human rights developments.  These articles are divided into the following four categories: International Criminal Justice; European System of Human Rights Protection; International Politics, Business and Human Rights; and the Czech Republic and Human Rights.
You can read the Bulletin in PDF version. The Bulletin is in the Czech language.