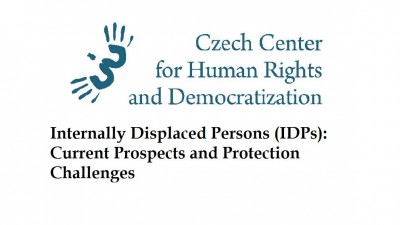 Czech Centre for Human Rights and Democratization invites you to a discussion seminar on the subject Internally Displaced Persons (IDPs): Current Prospects and Protection Challenges.
Speakers:
Bríd Ní Ghráinne, Lecturer and Researcher, School of Law, Sheffield University 
Kristýna Andrlová, Lawyer, the UN Refugee Agency (UNHCR) in the Czech Republic
Šárka Dušková, Lawyer, Organisation for Aid to Refugees (OPU) 
Who are "Internally Displaced Persons" (IDPs)?
How do they differ from refugees?
Where do most people who have been forced to leave home but have remained in their own country come from?
What are the reasons people become IDPs?
What are the issues IDPs are facing?
Current issues and challenges concerning internally displaced persons (IDPs) will be discussed at the seminar. You will have chance to learn about the experience of the UNHCR´s experience with IDPs and about their current situation in Syria. This issue may also be relevant in the Czech Republic as the resettlement of people from conflict areas in Ukraine is relevant for decision-making of the Ministry of the Interior in cases concerning applications for international protection lodged by Ukrainians in the Czech Republic.
The seminar will take place on 6th June 2017 at the Faculty of Social Studies, Masaryk University in Brno.
Current information is available here.